DeAnna Kinzey Backel can be found most days painting or teaching in her studio where she works as a full-time artist. She accepts private and corporate commissions and offers lessons to children and adults alike.
PERSONAL:
Being an artist has defined her existence for as long as she can remember. DeAnna was born in Jackson, Mississippi, however she was raised primarily in New Orleans, Louisiana and was always drawn to its old world charm. This is evident in her choices of subject matter which often consist of courtyards, bistros, musicians and culinary still life. She worked for many years as a decorator and will include personal items of her clients in still-lifes, portraits and abstracts.

EDUCATION:
DeAnna received a Bachelor Degree in Art with a concentration in drawing and painting from Belhaven University.
INSPIRATON & STYLE:
DeAnna always favored both Realism and Impressionism. Her professor, Jon H. Whittington mentored her in the classical technique used by Old Masters referred to as "en-grissaille." Feeling a great reverence for the classical, she emulated the techniques used especially by the Dutch and Flemish masters in regards to still-life and landscape painting. At this time DeAnna gravitated primarily towards this style of work and the challenge of striving to achieve such high levels of skill.
Having children of her own gave DeAnna the desire to begin painting children's portraits. She became a member of The American Society of Portrait Artists and attended workshops which included nationally known portrait artists. She did further research on her own of various artists, her favorites of which are John Singer Sargent and Bougereau.
Eventually she felt the need to portray the energy of children and pets at play, which led the artist to create her more Whimsical style. Here she works quickly with a looser hand, which adds to the sense of movement. The idea here is to keep the painting fresh and lively while capturing a fleeting moment in time.
DeAnna is passionate about the subjects she is inspired to paint...the people and places she encounters in her travels and in her day to day life.
She is rarely without her camera and will stop in the middle of anything and everything to capture the perfect shot for potential subject matter! She works primarily in her studio, but often paints outdoors.
GALLERY REPRESENTAON:
Over the years, the artist has
been represented by the following galleries in Mississippi, Alabama and Florida and has clients all over the country.
. Fish Alley Art, Columbus, MS
. Studio 206, Columbus, MS
. Dirk Walker Gallery, Northport and Birmingham, AL
. Jackson Street Gallery,
Ridgeland, MS
. The Hidden Lantern Gallery, Rosemary Beach, FL
. Hissyfits Boutique, Rosemary Beach, FL
PROFESSIONAL AFFILIATIONS AND VOLUNTEERING
Community Art Group / Very Special Arts, Board of Directors
National Museum of Women in the Arts, MSC, member
American Society of Portrait Artists, member
Blair Batson Children's Hospital, Weekly Art Volunteer
Junior Auxilliary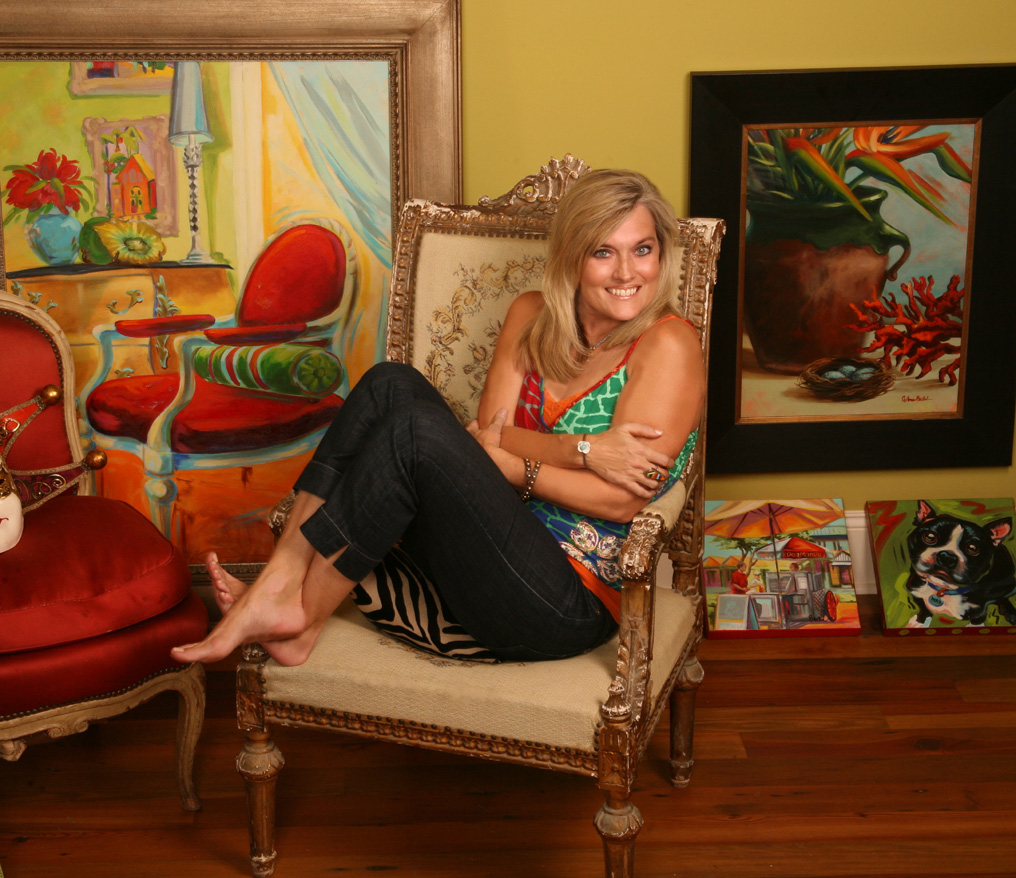 Photograph courtesy of Chris Grillis